The removal of the international sanctions on Iran had many positive effects and has reshaped the economic relationship between Iran and the rest of the world.
After lifting the sanctions, Iran has attracted a great number of large investment projects and entered into cooperation with many countries in various fields.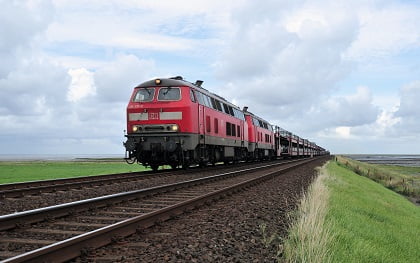 One new example is the German railway operator Deutsche Bahn, which is planning to use the International North-South Transport Corridor for transportation of goods from Europe to Iran.
According to Iran-business news:
A leading German railway company has expressed willingness to use the International North-South Transport Corridor (INSTC) and begin delivering goods from Europe to Iran through the Azerbaijan Republic.
Representatives of German railway operator Deutsche Bahn said they were interested in use of NSTC, which is expected to provide faster and more efficient trade connectivity between Europe and South East Asia, Vestnik Kavkaza website reported on Monday.
The issue was raised in a recent meeting in Tehran between heads of railways of Iran, Azerbaijan, Georgia and the German operator's officials, according to the report.
The meeting discussed prospects of development of the North-South international transit corridor, and exchanged views over transportation of goods from India and Persian Gulf states to Europe and vice-versa.
The participants also exchanged views on participation of Deutsche Bahn in the transporting goods through the route. The German company will send its first container to Iran in late November via Azerbaijan using the transit path.
The new route cuts the time just to 14 days and eliminates the need to pass through the Suez Canal, which is not only overloaded, but also very expensive.
Shanda Consult is specialised in consultancy regarding project-based investments and as a partner in bringing together investors and investment projects.
Shanda Consult is advising on numerous investments in Iran, ranging from Energy/Telecom/ICT to retail, transportation, automotive and agriculture investments.
For a personalised consultation for your business investment needs in Iran, please feel free to contact us.
Source: iran-business news (25/10/2016)