3rd Cyprus International Investors Summit on 13-14 September, 2018
The Cyprus Success Story: International & Regional Headquartering in Cyprus
Invest Cyprus, the Cyprus Investment Promotion Agency, is organizing the 3rd Cyprus International Investors Summit on 13-14 September, 2018 at the Carob Mill Complex in Limassol, aiming to gather a diverse audience of professionals and showcase the advantages of International Business Headquartering in Cyprus.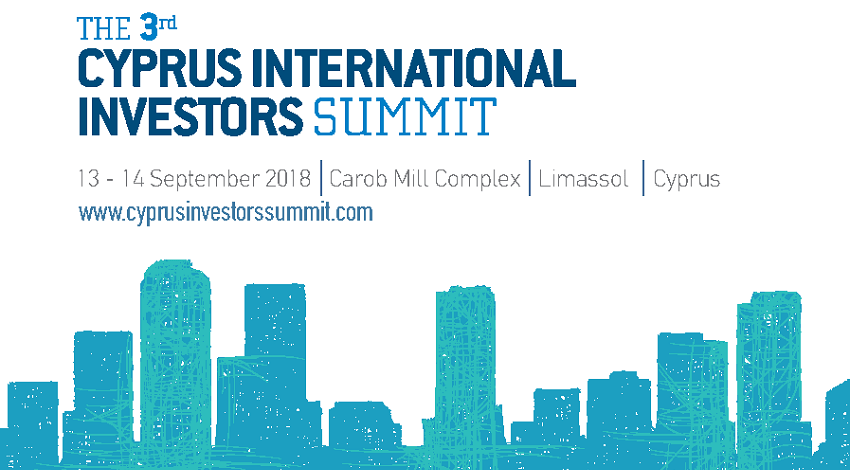 Cyprus has experienced unprecedented economic growth over the last few years. This is reflected in all macroeconomic indicators such as GDP growth, the decrease in the national debt and unemployment. All credit rating agencies have upgraded Cyprus's economy, keeping a positive outlook for the future. Major direct foreign investments were recently made in sectors such as Banking, Hotel and Leisure, Real Estate, Retail and Pharmaceutical Manufacturing. Several large infrastructure and real estate projects are in the pipeline, which will change the island. The number and range of companies choosing to locate their regional or global headquarters in Cyprus has risen steadily in recent years. The trend is set to continue because of growing demands from global regulators that companies have a physical presence and substance in the country where they are registered – and both are easily established in Cyprus.
The summit will be chaired by Mr George Campanellas, Director General, Invest Cyprus. The welcome address will be delivered by Mr P. Michael, Chairman of Invest Cyprus, while the Minister of Energy, Commerce, Industry and Tourism is expected to attend as Keynote Speaker.
For more information, you may download the summit programme and visit the summit website.