Cyprus ranks as 45th among 190 global economies in the World Bank's report on the Ease of Doing Business.
The report measures and compares various business regulations relevant to the life cycle of a small- to medium sized domestic business in 190 economies.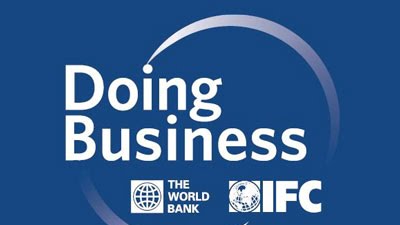 It measures and tracks changes in regulations affecting 10 areas in the life cycle of a business: ease of starting business; dealing with construction permits; getting electricity; registering property; getting credit; protecting minority investors; paying taxes; trading across borders; enforcing contracts and resolving insolvency.
According to the bank's 2017 Doing Business Report, New Zealand is the best country in the world to do business. Singapore is ranked as second and Denmark is third.
The report commends Cyprus for implementing reforms which make doing business and paying taxes easier, namely:
'Cyprus made starting a business easier by merging the procedures to register for taxes and for VAT while making name search and reservation faster.'
'Cyprus made paying taxes easier by introducing improvements to its internal processes and to the electronic tax filing system. Cyprus also made paying taxes less costly by increasing the discount rate applied on immovable property tax.'
There was a significant increase in the number of company formations in Cyprus in 2016 compared with 2015.
According to Cyprus Mail:
The number of company registrations rose 8.5 per cent in October to 1,075 compared with the respective month of 2015, which was the slowest pace in a month this year, the Department of Company Registrar and Official Receiver said.
In January to October, the number of company registrations rose 22 per cent to 10,874 compared with the respective period of 2015, the department said in an emailed statement. The company registration figures are an indicator about the prospects of Cyprus's business services sector.
The issue of certified copies rose an annual 4.7 per cent in October and fell 11 per cent in the first ten months of the year to 24,479 and 252,071 respectively, the company registrar said. Applications for names rose 1.5 per cent in October and 13 per cent in January to October to 2,195 and 22,087 respectively.
The submission of other documents dropped in October 48 per cent to 11,136 and in January to October 30 per cent to 105,044 compared to the respective period last year, the registrar said.
Shanda Consult offers personalized Cyprus company registration services as well as a wide range of legal, bookkeeping, banking and fiduciary services.
Shanda Consult can assist you also with issues concerning the Cyprus economic substance. Through its subsidiary, Euroserv Business Centre we can offer:
complete setting up and maintenance of physical business office of your company, including the needed staff;
Modern offices and workstations;
own phone line on the of the company, accepting phone calls in the name of the company, automatic call forwarding possible, notification via email;
own fax line;
Forwarding of incoming mail via email (physical forwarding is possible as well).
Why Cyprus?
Cyprus is an international trade centre since more than 2000 years. During more than 2000 years, a culture of sensitively incentive concepts has been developed in order to optimize the island's attractiveness for international business.
Today, being member of the EU since 2004, Cyprus is an international business and finance centre with extraordinarily advantageous tax incentives.
The general corporate tax rate is one of the lowest in the EU, 12,5 %, the effective taxation of income from intellectual property is 2,5%. Apart from the competitive tax framework, Cyprus has many more advantages to be considered.
Because of its political stability, high standards of education and living, advantageous geographical location, law crime rate and warm climate Cyprus is an ideal place to live and to conduct business. English is widely spoken and considered as business language.
For a personalised consultation for your company formation or other business needs in Cyprus, please feel free to contact us.
Source:
THE WORLD BANK – Doing Business (https://www.doingbusiness.org)
Cyprus Mail (Article: Company registrations increase slows down to 8.5% in October)
Photo:
THE WORLD BANK – Doing Business logo