SPACs in a Nutshell: What is a SPAC?
Douglas Ellenoff, Partner of Ellenoff Grossman & Schole (EGS), explains what SPACs are
"SPACs are an Attractive Vehicle to Raise Capital"
"SPACs are an Attractive Vehicle to Raise Capital"
Douglas Ellenoff, Partner of Ellenoff Grossman & Schole (EGS), explains SPACs in a nutshell: "SPACs are an Attractive Vehicle to Raise Capital"
"A SPAC is a registered IPO, that raises money that sits in a trust account, that is created and formed by private equity sponsors and well-known business people. And that money that sits in the trust account … is used to buy a private company, thereby taking a private company public through a reverse merger of sorts. It's either a financing technique, an M&A transaction to get a private company public. It enables retail investors and public investors to participate in private equity transactions, single purpose private equity transactions, sponsored by some of the best-known private equity professionals in the country, and that's what a SPAC is in essence", says Douglas Ellenoff, Partner, Ellenoff Grossman & Schole (EGS).
Ellenoff Grossman & Schole (EGS) is one of the heavy weights in our team of SPAC specialists.
SPACs are an Attractive Vehicle to Raise Capital… but setting up a SPAC requires a team of experts
Designing, structuring, setting up a SPAC, arranging for a successful IPO and mastering acquisitions and mergers that add value to the mission of a SPAC are a project that requires a well-established team specialised on SPACs.
Determining the right business idea and acquisition strategy as well as forming a convincing board are just two critical aspects of successful SPACs. 
SPAC IPOs, like any IPOs, do need the approval of the Security Exchange Commission (SEC), if a SPAC IPO is planned at Nasdaq or NYSE. Ensuring the approval of a SPAC's prospectus by SEC requires proven experience and professional familiarity with SPAC-specific legal matters. That's where our team member Ellenoff Grossman & Schole (EGS) comes in.
Choosing the right prospective institutional investors for the first roadshow, before the IPO, is essential for a successful SPAC IPO. It is needless to say that the right institutional investors must be approached for the specific acquisition strategy of a SPAC, being familiar with their specific investment policies and strategies. At this point, the underwriting bank plays a central role.
With Shanda Consult as your SPAC Project Managers you will be well advised and in the right hands to run you and your SPAC project through all critical stages until a successful SPAC IPO and beyond, assisting in determining acquisition targets and assisting in successful acquisitions.
Please read more on the following pages about the intriguing aspects of SPACs.
Some general information and information about the SPACs we are currently working on can be fond below:
Brief SPAC introduction of SPACs (new, Feb 2020)
"What is a SPAC?  What are the advantages of SPACs?   What do we do and why people prefer us!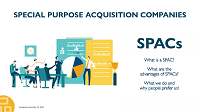 Our SPACs currently in the making, available for Sponsor participation, updated February 2020:
You are welcome to contact us through the contact form below to have a chat what we can do for you.
Our currently hot SPACs:
LENUS BIOSCIENCES
Our LENUS BIOSCIENCES SPAC focuses on investments in the nanotech medical cannabis industry.
RAETI FINANCIAL SERVICES SPAC
RAETI will position itself to exploit an unmet  financial need: namely, tax compliant, offshore  asset protection for North American clients in the safest international banking jurisdiction.
The HEIDI SPAC: Smart Energy with Blockchain  & AI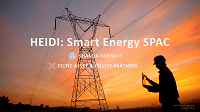 HEIDI, a SPAC focused on the acquisition of promising companies with forward-looking technologies and a track-record in energy production or distribution.
Important note:


Shanda Consult is not offering and/or providing investment advisory services in the sense of regulated investment advisory services as per respective EU Directives and their implementation into national law of EU Member States. Instead, Shanda Consult offers SPAC Project Management services and consults regarding the general principles of US SPACs and their business structuring. Any investment, legal and financial advice that may become necessary for possible sponsors and investors at advanced stages will be provided by the network partners of Shanda Consult.